This product has been discontinued and removed from our shelves.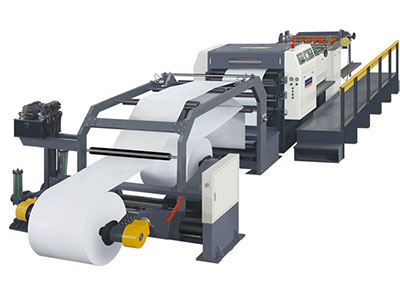 Model: GM-1400, GM-1700, GM-1900
The CM series servo control precision sheet cutting machine is a paper processing machine which adopts the advanced technique of Germany and England. The machine computer control system is equipped with servo motor and AC transducer which are both international top brands. The components our machine adopts are imported ones like the Japanese NITTA conveyer belt, Switzerland FINOLEVA pneumatic vibrator, and SCHNEIDER and OMRON electrical system and etc. With German precise bearing and cutting knife, it not only comes with fast and stable cutting speed, but also high cutting precision. In addition, the anti-curve rack assures the paper flatness and the touch screen makes the operation easy. Our machine can greatly improve the efficiency and benefit in paper manufacturing and printing industry.
Parameters of Servo Control Precision Sheet Cutting Machine
| | |
| --- | --- |
| Model: | GM-1400/1700/1900 |
| Model of Cutting Paper: | T he upper knife cut reciprocally and the down knife is fixed |
| Maxi Cutting Meter Speed: | 350m /min |
| Thickness of Cutting Paper: | 60-550g |
| Cutting Length Range : | 450-1450mm |
| Cutting Precision: | +/-0.5mm |
| Paper Piling Height: | 1300mm |
| Maxi Cutting Speed: | 350cuts/min |
| Maxi Scroll Diameter: | 1800mm |
| Gross Weight: | 13000/15000/17000kg |
| The format of Slitting: | 2 sheet |
We are an experienced servo control precision sheet cutting machine manufacturer based in China. Besides paper roll sheeting machine, we also offer window patching machine, OPP film laminating machine, flute laminating machine, and more.

Related Names
Paper Machine for Sale | Paper Roll Cutter | Guillotine Cutting Machine