This product has been discontinued and removed from our shelves.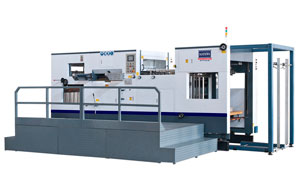 Automatic die cutting creasing machine which adopts flat to flat die cutting method, comes with excellent quality, easy operation and reasonable price, thus embodying itself with practicability and cost efficiency. It is a key equipment for die-cutting, creasing and cold embossing paper cassette, box, label and etc.
Features
1. With the step motor to adjust the front guide, our automatic die cutting creasing machine features easy operation and high precision.
2. The adjustable sheet-conveying unit ensures speed and its precision. Therefore, it is especially suitable for the thin sheet conveying.
3. Integrated control with coder keeps the machine running coordinately.
4. The chain of gripper bar can be lubricated according to time and quantity. Time break can be freely set by human being.
5. Pneumatic sampling system makes the sample-checking more convenient.
6. It is both safe and reliable. All the electric units like bearing, fastener chain and etc, are imported famous brands and in full compliance with CE standard. Therefore, our equipment not only operates at a high precision and has a long life span. Also, imported pneumatic clutch is not only endurable, but comes with low noise and stable brake.
Parameters of Automatic Die Cutting Creasing Machine
| | | |
| --- | --- | --- |
| Model: | MY-800 | MY-1060 |
| Max. Paper Size: | 800x620mm | 1060x760mm |
| Min. Paper Size: | 350x290mm | 450x360mm |
| Max. Die-cutting Size: | 790x610mm | 1060x750mm |
| Max. Die-cutting Speed: | 8000pcs/h | 7000pcs/h |
| Max. Pressure: | 200t | 300t |
| Max. Feeding Pile: | 1300mm | 1450mm |
| Max. Deliver Pile: | 1200mm | 1350mm |
| Sheet Thickness: | Cardboard 0.1-1.5mm Corrugated board ≤4mm | Cardboard 0.1-1.5mm Corrugated board ≤4mm |
| Total Power: | 12.75kw | 17kw |
| Total Weight: | 9t | 15.8t |
| Overall Dimensions: | 4310x2100x1800mm | 7050x4100x2150mm |
As an experienced automatic die cutting creasing machine manufacturer and supplier in China, our company also offers multi OPP film laminating machine, vacuum suction fingerless single facer, corrugated carton folder gluer machine, and many others.

Related Names
Heavy Duty Paper Cutter | Custom Die Cuts | Hard Paper Board Processing