This product has been discontinued and removed from our shelves.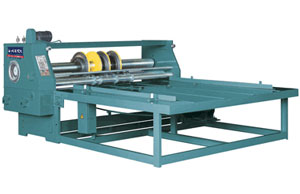 Model: MY-1050AP
Auto die cutting stripping machine is primarily used for die-cutting, creasing and cold embossing paper cassette, box, label and etc. With additional stripping system, it can remove all the useless blocks or edges excluding gripper edge, so the production efficiency is greatly improved. Our machine is especially used in the automatic die cutting and stripping of the complicated cartons and cigarette boxes, to get the stereoscopic sensation.
Features
1. The reasonable intermittent construction, which is designed by professional manufacturer, is of high precision. Through solving the problems of low speed and sheet separation, it ensures the stable operation of auto die cutting stripping machine.
2. Both automatic stripping frame and presetting table are equipped with the central registration device. Automatic stripping frame equipped with the device provides easy operation and less preparation time, and presetting table equipped with the device offers convenience for the stripping plate installation.
Parameters of Auto Die Cutting Stripping Machine
| | |
| --- | --- |
| Model: | MY-1050AP |
| Max. Paper Size: | 1060x760mm |
| Max. Cutting Size: | 1050x750mm |
| Min. Paper Size: | 400x350mm |
| Max. Stripping Speed: | 6200pcs/h |
| Max. Cutting Speed: | 7000pcs/h |
| Pressure: | 300T |
| Max. Feeding Pile: | 1610mm with palette |
| Max. Delivery Pile: | 1430mm |
| Sheet Thickness: | Corrugated paper:4mm; Cardboard:0.1-1.5mm |
| Total Power: | 24kw |
| Net Weight: | 16500kg |
| Overall Dimensions: | 5832x4140x2620mm |
As a professional auto die cutting stripping machine manufacturer based in China, we also provide auto spot UV coating machine, carton waste stripping machine, window patching machine, NC helical knife cut off machine, and much more.

Related Names
Paper Corner Trimmer | Pneumatic Tools | Cardboard Processing Machine