This product has been discontinued and removed from our shelves.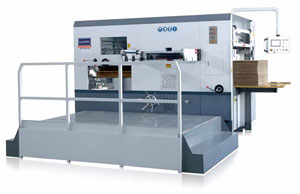 Semi-automatic die cutting machine is special equipment applied to die cutting of advanced colored paper boxes. It combines several advantages over many other die cutting machines both at home and abroad. Our machine adopts parts like intermittent mechanism with high precision, frontal, back and side registration mechanism, pneumatic locking mechanism, air clutch, programmable controller and man-machine interface. With high intensity gripper bars, it is applicable to all kinds of cardboard, paperboard and corrugated paper.
Features
1. Semi-automatic die cutting machine not only can process huge amount of paper, but also has frontal, back and side registration mechanism to ensure great precision of die cutting, thus ensuring high working efficiency.
2. The interface can display various digital information of machine such as working speed. Also, it is easy to eliminate troubles according to the display of trouble shooting.
3. The equipment has a lot of sensors and safe-ensuring devices to guarantee the safety of operation and environment, for instance, it adopts transducer to control the main motor for achieving stepless speed variation.
4. It is convenient to stop the machine by hand and can realize die cutting without clipper margin.
Parameters of Semi automatic Die Cutting Machine
| | | |
| --- | --- | --- |
| Model: | MKD-1300 | MKD-1500 |
| Max. Paper Size: | 1300x950mm | 1500x1100mm |
| Min. Paper Size: | 550x500mm | 550x500mm |
| Max. Cutting Size: | 1290x940mm | 1490x1090mm |
| Max. Cutting Pressure: | 300T | 300T |
| Max. Paper Thickness: | Cardboard:200-2000g/m2,corrugated paper:7mm | Cardboard:200-2000g/m2, Corrugated paper:8mm |
| Max. Cutting Speed: | 4500pcs/h | 4000pcs/h |
| Max. Feeding Pile Height: | 1400mm | 1610mm |
| Max. Delivery Pile Height: | 1200mm | 1540mm |
| Total Power: | 13.5kw | 15kw |
| Machine Weight: | 14500kg | 18000kg |
| Overall Dimension: | 5520x4300x2250mm | 6300x4200x2400mm |
As a professional semi automatic die cutting machine manufacturer based in China, we at MAY KWA also offer carton waste stripping machine, high efficiency flute laminator machine, auto spot UV coating machine, and more.

Related Names
Guillotine Cutter | Cardboard Cutting Machine | Corrugated Sheet Punch Machine