Corrugated Sheet Gluing Machine
Corrugated Sheet Gluing Machine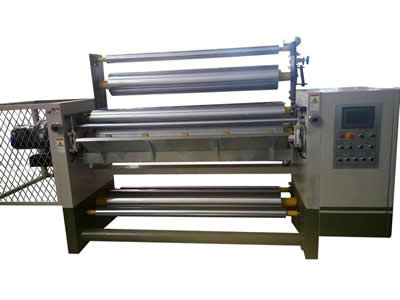 Model: GMC-20
Features:
After gluing roller surface tempering and inner bore processing, the surface of the gluing roller is dynamic balance finely ground and engraved with 32 lines of corrugated mesh with uniform gluing and less glue consumption.
The gluing roller rotation is controlled by frequency motor, which ensures that the linear speed of the roller is synchronized with the double facer, and can operate independently.
Adopts automatic circulation of glue supply to effectively control the quantity of glue and avoid glue precipitation.
The surface of each roller is treated with chrome plated after precision grinding.
Adopts roller encoder to measure the speed signal of double facer and realize synchronous operation.
The gluing machine adopts man-machine interface display.
The amount of glue can be adjusted automatically with production speed. Besides, can also be manual fine-tuning in the automatic mode, easy to operate.
Regular technical parameters:
Max design speed: 150m/min
Max width: 1600mm
Air pressure: 0.4-0.6Mpa
Operation direction: Right or left (depend on the customer plant)
Rollers diameter parameters:
Glue roller diameter: ¢269mm
Stick roller diameter: ¢142mm
Press shaft: ¢155mm
Conveying roller diameter:¢110mm
Parameters of motor and electric appliance:
Glue roller main motor: 3kW
Glue adjustment motor: 100W
Press roller clearance adjustment motor: 100W
Glue pump motor: 2.2kW